Empowering Agencies
Visibility to Opportunities
Find Diverse Supplier
Track & Report Spending
Trusted by the World's Leading Brands
87%
Traditionally a underrepresented or historically underutilized groups such
62%
A company that is 51% owned, managed and controlled
54%
The broader categories of diverse suppliers small, women, minority, veteran.
57%
The broader categories of diverse suppliers small, women, minority
Empowering Agencies
Information for new business and RFPs at your fingertips. With Datalou you can instantly view the latest count of the number of diverse suppliers used at the agency, client and business unit level. Easily include the amount of diverse spend for any period within seconds. Eliminating the phone calls and last minute fire drills to find the information.
Visibility to Opportunities
Through our integrated platform, you can track budgets, identify work and match the right suppliers for your business needs.
Find Diverse Suppliers
Identify diverse suppliers easier than ever with our Supplier Match. Results are generated using the most up to date industry data and shown in real time.
Track & Report Spending
Integrate data from all financial systems across your organization to seamlessly develop on-demand reports. Datalou's robust reporting capabilities support a wide range of reporting targets.
Bid Opportunities Tracker

Supplier Advocacy Manager

Internal & Client Spend Reporting

More Than Just a Database
Decades of experience has told us that the industry needed a scalable, adaptable and comprehensive solution to serve as a repository for creative suppliers used in the advertising industry. Over the years to request to expand the supplier types and enhance the reporting capabilities lead us to where we are today.
Datalou is a
multitenant, web-enabled, permissions based, secure platform

with over 100,000 creative, advertising and media suppliers.

While spend reporting captures suppliers that were awarded work, many suppliers are met along the way.
Contact Us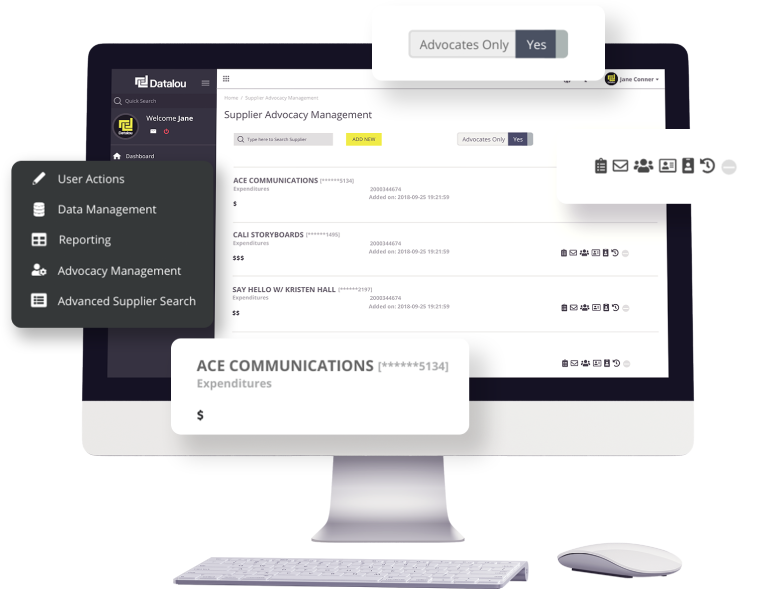 Supplier advocacy tracks where you met the supplier, when their capabilities were reviewed, and more.
Supplier advocacy provides tracking and reporting of your supplier engagement efforts enabling you to demonstrate good faith efforts.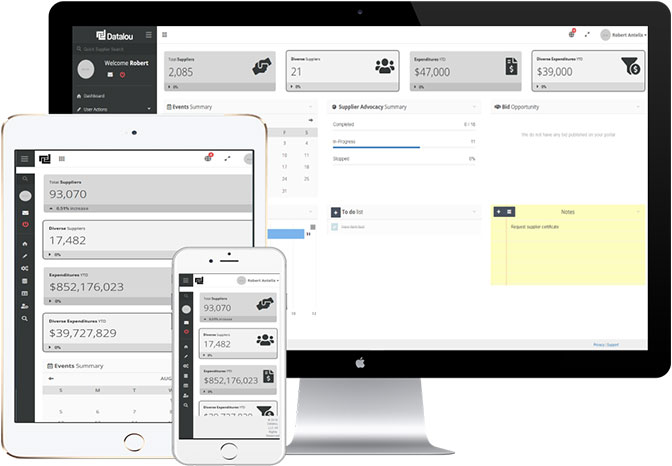 The Supplier Management & Reporting Tool
That can manage all your diverse supplier needs
Datalou is a comprehensive solution that's built from experience, and made for the future of supplier diversity management. Our powerful supplier database captures valuable vendor details for better searches, advocacy, and analytics.
Manage your internal procurement requirements and goals through agency and brand profiles for a resource of custom reports.
"The system is easy to use. Reports are done in seconds."
– Finance Director, Advertising Agency